Sale!
Our Lady of Fatima 100th Anniversary Tshirt
A wonderful way to honor Our Blessed Mother! 
This beautiful design features a prayer to Mary on the inside tag:
"Dear Lady of the Most Holy Rosary,
We received your promise of peace & reconciliation
in the world, through our prayers of the Rosary.
Knowing your Immaculate Heart will be our comfort
& the way which will lead us to God, we turn to you in
these times of world upheaval, fraught with war & pain.
In consecration to your Immaculate Heart,
& in solidarity with you through our Rosaries,
we commend suffering humanity to your care.
May we, in turn, bring the world back to your Son –
and by your holy intercession,
achieve true and lasting peace.
Holy Mary of Fatima, pray for us!"
OUR GUARANTEE & NO-HASSLE RETURNS
read more

Talk to Customer Care at
877-212-7317
SKU: FATIMA-Shirt
OTHER ITEMS YOU MIGHT LIKE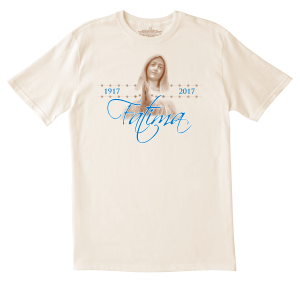 Printed in the USA
Exclusive Designs
100% Satisfaction Guarantee
Product Details
Our 100%, pre-shrunk cotton t-shirt feature a simple message of mercy and love.
Questions & Answers
No FAQs Found
Customer Reviews
Only logged in customers who have purchased this product may leave a review.